Background
Harrow Council has recently been informed of the route of the TfL Quietway in Harrow. We call it the 'TfL Quietway' because it bears no resemblance to the routes that the council originally proposed.
The council reports that Harrow did not win mini-Holland funding because the plans were 'not ambitious enough'. In any case Harrow's chances were small given that there were many boroughs competing for the money. However, TfL said that the principles of choosing routes along desire lines was sound, and expressed interest in taking forward some of the individual routes. These routes were the 'Cross-Harrow' route, the 'Jubilee' route and the 'Metropolitan' routes.
These preferred routes were straight, direct and followed main roads, which would require  cycle paths to be built. A TfL engineer visited Harrow last year to survey the routes.  However, TfL subsequently requested that Harrow think of alternative routes along quiet roads which would require less intervention. Harrow proposed some routes and TfL chose a different route without any clear rationale.
The route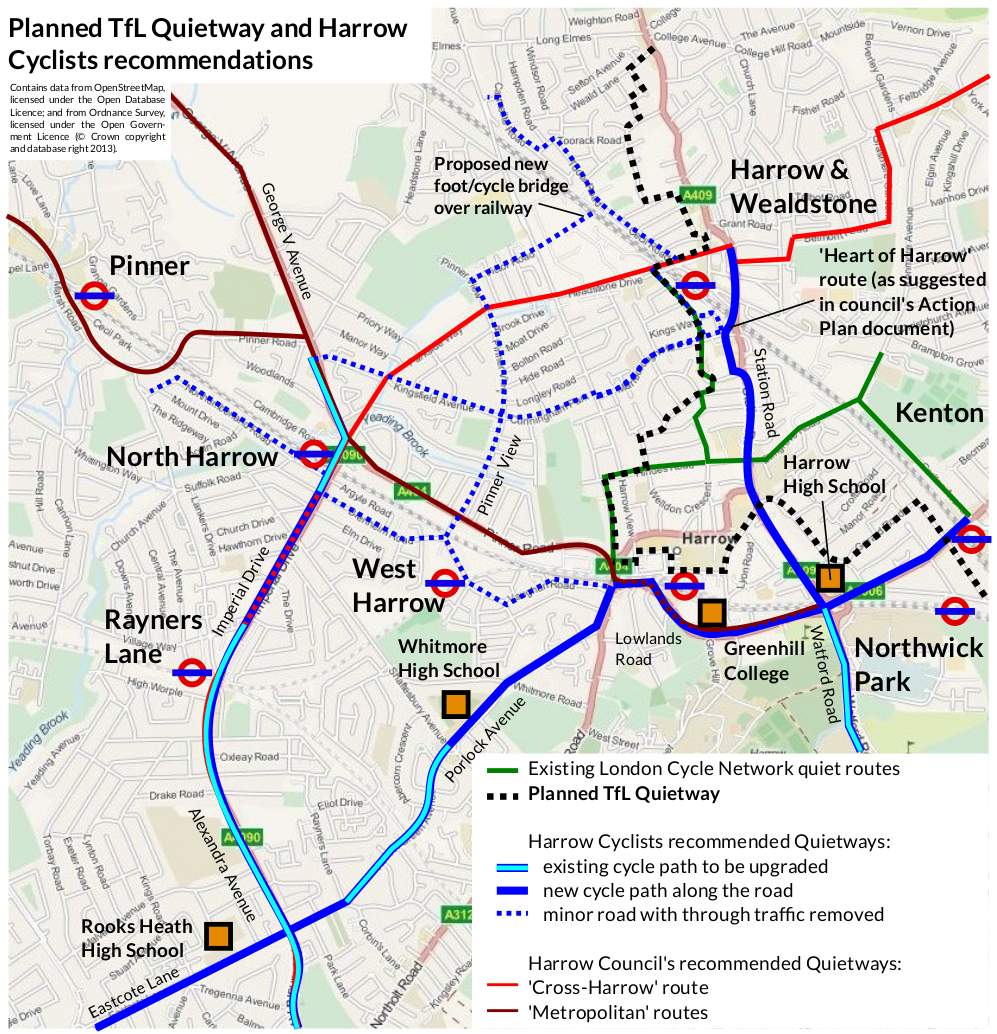 Why this route?
We think this route is intended to join up with Quietways in Brent, but this will be an indirect, sparse, slow network which will follow some parts of the existing London Cycle Network but be less extensive. The Mayor's Vision promised a Quietway in every borough, and this might be intended to minimally (albeit not meaningfully) fulfil the promise and tick the box.
Will this Quietway benefit Harrow?
Objectively, the Quietway will not have characteristics of a good quality cycle route. It is not straight and direct, as promised in the Mayor's Vision for Cycling. Brief sections of the route may be useful but these journeys are possible already. Some sections (such as College Road in the town centre, and the railway bridge in Wealdstone) are narrow and busy with traffic. It is unlikely that any new journeys will be facilitated by the route itself.
For example, journeys between Kenton and Harrow & Wealdstone stations would be quicker by following the existing LCN signed routes. The existing route is also quieter, as it avoids College Road (which has a bus station and can be fairly busy).
The only benefit might come if major infrastructure improvements are made at the 'difficult places', e.g. a new railway bridge in Wealdstone, or redesign of College Road with a segregated cycle path. However we do not yet know what is in the plans, and based on the experience of other planned Quietways (e.g. the route to Gladstone Park in Brent), the intervention will be minimal.
What next?
Harrow council should recognise that this is not a useful route – we have written to all councillors to that effect.
We think the best way forward is for Harrow to develop and push forward on a couple of high quality routes, independent of TfL, which tie in with major developments (such as Harrow Town Centre and the Kodak site) and serve important destinations such as schools and stations. The initial routes should improve and join up the existing fragments of cycle path in Harrow, and follow wider roads where there is space to add cycle paths easily, in order to achieve maximal benefits while arousing minimal opposition. More challenging routes can be tackled later, when Harrow has built up some experience and residents have been able to experience the benefits of a good cycle route.